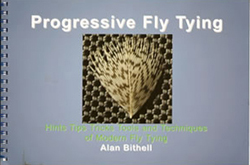 Fly Tying Book
Progressive Fly Tying by Alan Bithell. 
The spiral bound format of the book fixes the age old problem of struggling to keep the book open at the right page when using your hands to tie flies.
The book covers techniques, material guides, step by steps and some nice anecdotes.
The techniques covered in Progressive Fly Tying include hackles, parachutes, dubbing, slip wings, CDC, using beads, spinning deer hair and more.
The material guides to materials include hackles, CDC, foam, lead and beads.
Progressive Fly Tying contains 28 step by steps; each covering 2 pages with about 9 clear photos each with specific instructions.
The book has plenty of extra hints and tips spread throughout it, as well as pages dedicated to issues such as tying lots of flies, thread control, using tinsel and weaving.
Book starts with a guide to the basics of the tools but also gives good advice on an often untouched subject – artifical light.
The passion for Alan's tying really shines through in his Progressive Fly Tying book and it is a fantastic resource for tiers of all abilities
If you are interested in purchasing this book please contact Alan Bithell  at his website (Click Here)