AFYD as a matter of policy, provides its participants with good quality
reliable equipment to use and learn with.
As a result our equipment suppliers have now started to offer the equipment that AFYD use, displaying the AFYD logo, to the retailers.  These products AFYD are delighted to endorse as we believe them to be some of the best available and at affordable prices.
Every item sold by tackle retailers bearing the AFYD logo also leads to a donation from our suppliers to AFYD so that we can continue to develop and grow.
Fly Fishing Outfits
The Vision AFYD Attack Fishing Outfit
The AFYD Attack Fly fishing outfit is based upon the standard AFYD rod, reel, and line used by AFYD to train the youngsters within our programmes supplied by Vision in conjunction with Guide Fishing.
Outfits offer either 9ft or 9ft 6″ Vision attack AFTM 7 rated single handed middle to tip action fly rod, a Koma wide arbour reel, fitted with a Rio 7 rated, weight forward floating fly line all protected within a specially designed tube-reel cover combo.
For further information about the AFYD Attack Fly Fishing Outfit and its component parts, visit
http://www.guideflyfishingonline.co.uk
Landing Nets
Landing net manufacturers Fastnet Developments Ltd have produced a new landing net specifically for AFYD. The new model carrying the AFYD logo will be standard issue to all AFYD programmes as it is of a durable and hardy design, ideal for young people and novice anglers to use.

Steve Gill, Former AFYD Instructor, said:
"The Fastnet AFYD landing net can be used both on the bank and in the boat, it has a couple of especially useful features built into it including a ruler and the weighing formula".
Grev Humphrey AFYD Project Development Officer said:
"I am delighted with Lindsey's and her fathers net, their support of our project not only includes supplying us with as high quality robust product but potentially an additional revenue source from sales generated from the public who can purchase the landing net. As far as I am aware this is the first time that a Tackle manufacturer has sponsored a charity in such a novel manner by promoting them on their products. For each net sold the AFYD trust will receive £4 to help establish further AFYD programmes throughout the UK. All of us in AFYD would like to thank the Fastnet team for being so supportive to our cause".

Fastnet Developments Ltd are currently designing a specimen net for AFYD which should be available later this year for AFYD's coarse and sea fishing programmes.
For further information and to buy the net please see:
www.fastnetdevelopments.co.uk/AFYDNets.html
Fly Tying Book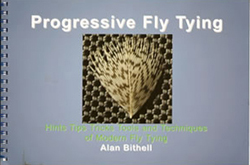 Progressive Fly Tying by Alan Bithell. AFYD price £17.50 (inclusive UK Postage and Packing) (RRP £19.99).
The spiral bound format of the book fixes the age old problem of struggling to keep the book open at the right page when using your hands to tie flies.
The book covers techniques, material guides, step by steps and some nice anecdotes.
The techniques covered in Progressive Fly Tying include hackles, parachutes, dubbing, slip wings, CDC, using beads, spinning deer hair and more.
The material guides to materials include hackles, CDC, foam, lead and beads.
Progressive Fly Tying contains 28 step by steps; each covering 2 pages with about 9 clear photos each with specific instructions.
The book has plenty of extra hints and tips spread throughout it, as well as pages dedicated to issues such as tying lots of flies, thread control, using tinsel and weaving.
Book starts with a guide to the basics of the tools but also gives good advice on an often untouched subject – artifical light.
The passion for Alan's tying really shines through in his Progressive Fly Tying book and it is a fantastic resource for tiers of all abilities
If you are interested in purchasing this book please contact the Alan Bithell website www.crackaigflies.co.uk for information thank you.
Fly Tying Equipment

Turrall's Fly Tying Tool Starter pack
Consisting of an easy to use fly tying vice, dubbing needle, hackle pliers, bobbin holder, scissors, and a basic instructional book to get the novice starting to tie flies . This pack, we have found, provides all the tools required for tying flies. It is the ideal base for developing and improving a persons flytying skills and techniques.
For further information about the Turrall's Fly Tying Starter pack and its component parts, visit http://www.turrall.com
Sculpture for sale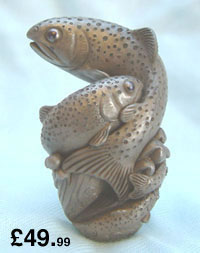 HELPING TO RAISE FUNDS FOR TROUT IN THE CLASSROOM
£10 will be donated for every 'Spawn Free' sold.
Order online at www.loopyladies.co.uk or phone 01527 579 500 ask for Anita or Karen.
By top UK sculptor Adam Binder at:
The Clothes Rail,
8 Worcester Road,
Bromsgrove, Worcestershire
B61 7AE.
To help the project further, order anything from the Loopy Ladies website and 10% will be donated to Trout in the Classroom. Just enter the word 'trout' in the special instruction box when you come to pay.